Dovey Magnum's new manager, Nigel Angus, is clearing the air on rumors surrounding the "Bawl Out" deejay's detainment in Atlanta, Georgia.
The Dancehall diva was held at a US immigration and Customs Enforcement (ICE) detention facility in the United States after ICE agents allegedly carried out a raid at a location in Atlanta. Soon after, rumors emerged that the artiste might also be facing criminal charges, as she allegedly used someone's passport and documents to conduct her travels. Fans also said the artiste also underwent body enhancement surgery in Atlanta.
Over the weekend, the "Bawl Out" deejay's team took to Instagram to clear the air on these rumors.
"I'm here to put all the speculations to rest regarding the @doveymagnum rumors about her being held by immigration. It would be foolish of us to deny this, but what we are not going to do is do the add-on 'speculations.' So to clear the air this is an immigration issue 'NOT a criminal topic. There is only 'ONE' problem and it's regarding her overstaying here in the States," the Instagram statement said.
"I have retained an attorney who goes by Mr. Farqueson and has declared this is only an immigration issue, "NOT" a criminal case. I have spoken to her assistant Ms. Stewart who was present when everything occurred while at the airport with Dovey and NO! Government nor Law Enforcement have ever been to Ms. Harrison's residence because they both were held at the airport for questioning "BEFORE" entering Atlanta. Ms. Stewart was the only person allowed to enter," the statement clarified.
Mr. Angus admitted that Dovey Magnum undergoes a body enhancement surgery but says this was done as part of her rebranding in preparation for her upcoming album.
"As for Dovey the Barbie Doll makeover, she did recently have her body done; this was all a part of her rebranding and image along with her new developing album. I spoke with her son Jay and he is doing ok during the whole tribulation. Despite it all, this is a child without his mother. My position recently was to rebrand and organize Dovey on a professional level here for the states we will continue to support her despite her current dilemma. As for right now, the artist is looking to get well and eager to see her son ASAP. It's best to hear it from me than the speculations. I'm looking to make this situation as transparent as possible," the statement concluded.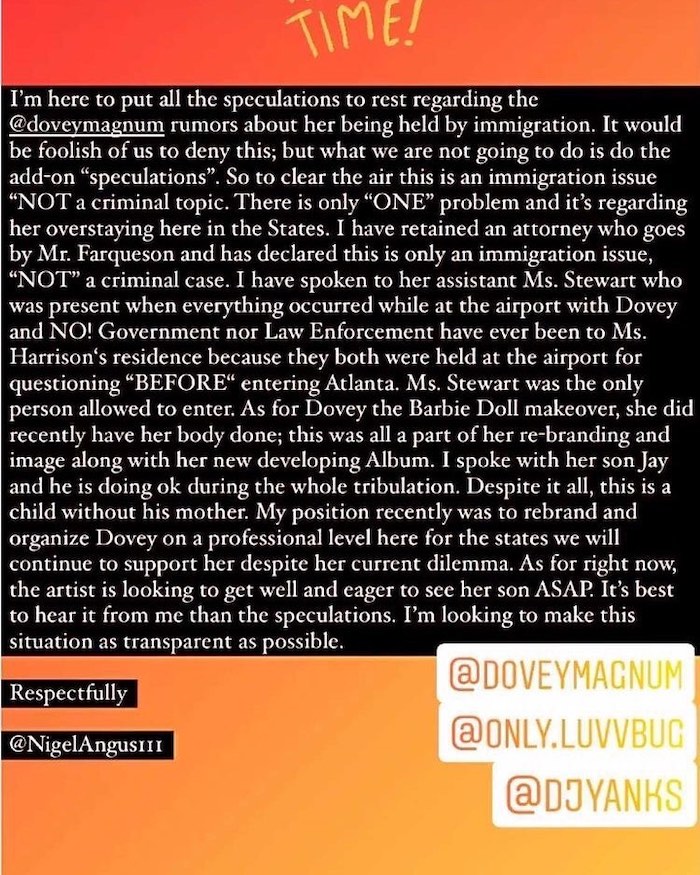 Dovey Magnum was slated to headline Purity's All White weekend bash in Florida on Sunday, May 23, but missed the event due to her detention.
Share this: